Hire Pre-vetted Dedicated Remote Staff at 1/3 the Cost
Hyaroo is your #1 source for skilled, talented and pre-vetted professional remote workers from Bangladesh, India, the Philippines and more.
Why Hyaroo is the Ideal Platform for Hiring Remote Talent?
From direct hiring and recruitment to employee monitoring and done-for-you payroll, our complete range of hiring solutions ensure your experience with remote staff hiring is a huge success.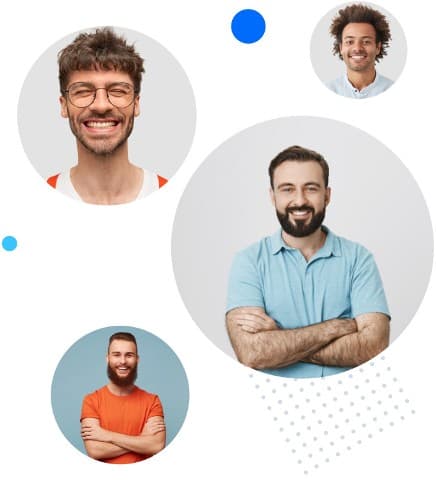 Vetted Professionals
We make every single worker go through a thorough and dedicated screening process to ensure that they're the high quality talent you're looking for. We've taken every measure to guarantee a quality talent pool so that you can feel confident you're making the best pick for your business.
Long-Term Basis
Hyaroo is built around creating and fostering real long-term relationships, and not short-term projects or temporary work. You'll only find staff that want to become trusted partners and team members (and are dedicated to doing an excellent job so that you stick with them).
Direct Communication
We don't force you to do anything on our platform beyond making the initial hire. You have the complete freedom to communicate, work with, and pay your worker however you see fit. Once you're ready to move on with your worker then you're all set (unless you decide to use us for our other optional services).
Exceptional Support
Hiring awesome talent shouldn't be hard - that's why we make it easy. Our support staff is here to serve you at every step of the way so that your hiring experience is as smooth as possible.
Find talented remote staff who specialize in the following skills:
Over 100,000 talented, trusted and highly-trained remote workers have joined Hyaroo and are ready to work with you long-term, helping your startup grow in the most cost-effective way possible
A full suite of remote staff hiring solutions to help you handle any type of task
We've made it extremely easy to tap into our qualified talent pool and quickly find an amazing match for your precise needs.
Job Board
Browse our pool of professional talent, post your requirements, and find the right person for what you need.
Coming Soon
Done For You
Let us find the perfect match for your business. Then, you'll take over and work with them directly.
Managed Staff
Work directly with one of our team members while we supervise them. We handle payroll and invoice you directly.
What Our Customers Say About Hiring With Hyaroo
We asked our customers what changed for the better since switching to Hyaroo. Here's what they had to say. Online business owners get more done with remote dedicated virtual assistants.
I had been dragging my feet to outsource some of my website needs because I had heard so many horror stories.If you are in the same boat, it is my pleasure to recommend Kashem and his staff at Hyaroo who were referred to me by Brian Horn, a top internet marketer.

---

Debbie Wysocki

HowToBeIrresistibleNow.com

I needed help with managing my websites because I was swamped with work and could not afford to employ a part time dedicated webmaster service in Australia.I heard about Hyaroo's service from a friend.Now, I have established a productive routine with my virtual assistant and we have taken my websites to another level.I now feel in control of my workflow.I highly recommend Hyaroo.com and their professional team.

---

John Cosstick

freelance-work-guide.com

Like many website owners, I have long had a clear vision of what I wanted to do with my site.The problem, of course, is that it takes a LOT of time and work to do everything that needs to be done.That's where hyaroo.com came in.I feel very fortunate to have found the Hyaroo team.That have been wonderful.

---

Mo Johnson

Secsportsfan.Com
Ready to hire pre-screened remote talent to scale up your business to the next level?
We've taken every measure to guarantee exceptional quality throughout the remote staff hiring process.