What is the Best Way to Manage a Project?
If your answer to the question above is using a project management tool, then you are right. Using a dedicated project management service can reduce a significant amount of your workload and automate the whole process.
Here are some distinct advantages of using a project management service:
It makes it easier for team members to cooperate
It helps to minimize the use of emails
It accelerates project delivery
It helps to increase overall productivity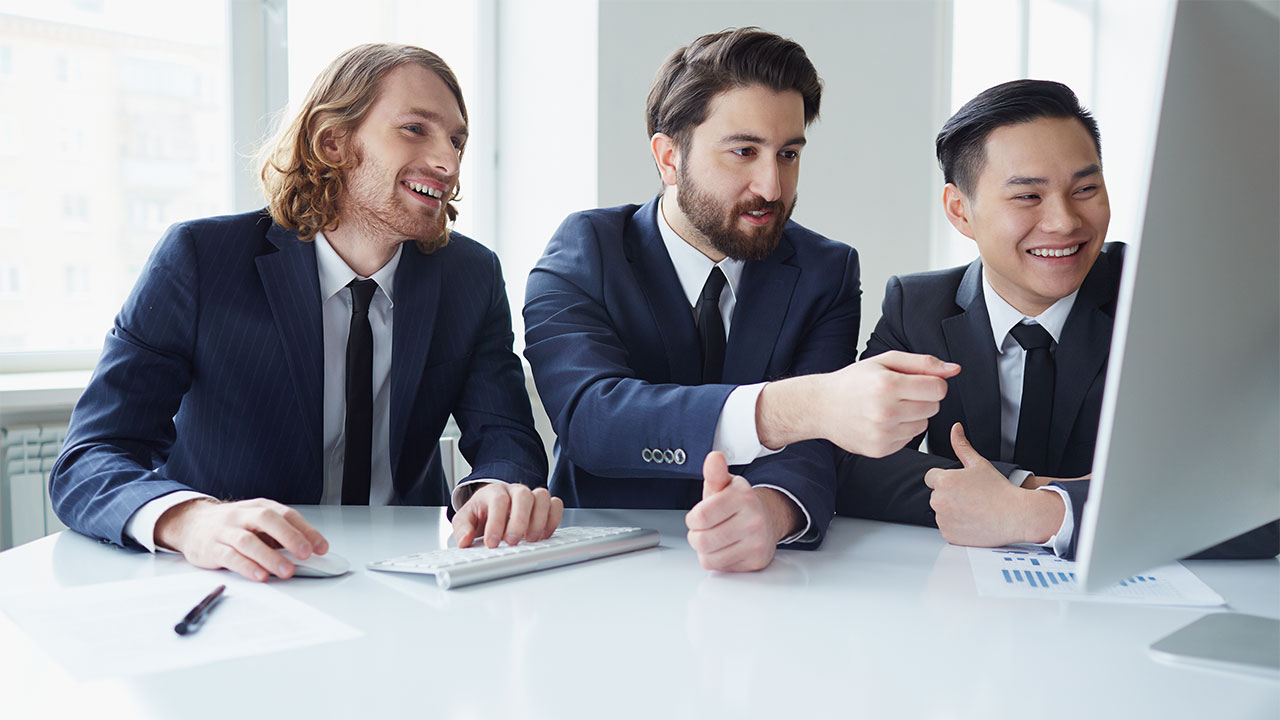 Wow, project management services are really useful, aren't they? Yes, we also think so. Now, where do you find a list of the best project management apps?
Google?
That's one way, but there is a better way. Have a quick look at the table below to get more information about the best project management tools.
| Name | Price | Best feature |
| --- | --- | --- |
| Basecamp | 2 months free trial / $20 per month | Useful for any professional |
| Asana | Free / $21 per month for 5 people |  Integrated all-in-one solution |
| Wrike | Free / $49 per month for 5 people |  Instant activity updates |
| Trello | Free / $5 per month |  Simple user interface |
| Podio | $9 per month for each member |  Powerful task customization |
| Freedcamp | Free / $12.99 per month | Familiar discussion interface |
| Evernote Business | $12 per month for each user |  Offline access |
| Jira | $10 per month |  Specially developed for software companies |
| Zoho Projects | Free / $20 per month |  Task dependency monitor |
| Teamwork Projects | $12 per month |  Advanced privacy and permission options |
Now that you know some of the best project management solutions, let's see what else they have to offer. By using the following project management tools, you will be able to save time.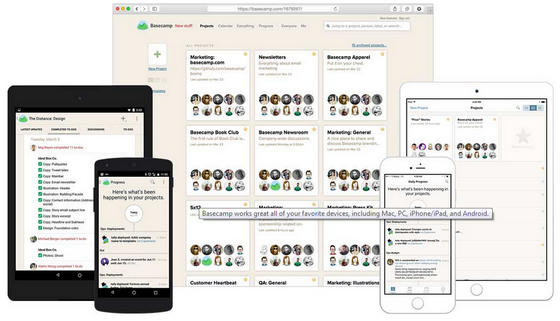 Used by leading brands like Twitter, Nike, Nasa, DHL, Adidas, and WWF, Basecamp is a very popular project management service. It is also useful for any professional including marketers, writers, manufacturers, event managers, designers and developers, just to mention a few . Basecamp lets you create projects and invite team members to join the project. Once they choose a username and password, they are all set.
It is possible to add necessary documents and/or multimedia files to your project, which can be accessed by anyone involved in the project. Besides the regular discussions, it is possible to add to-do lists, delegate tasks, set deadlines, provide feedback and schedule meetings. You can get even more features by using the third party apps, integration and add-ons.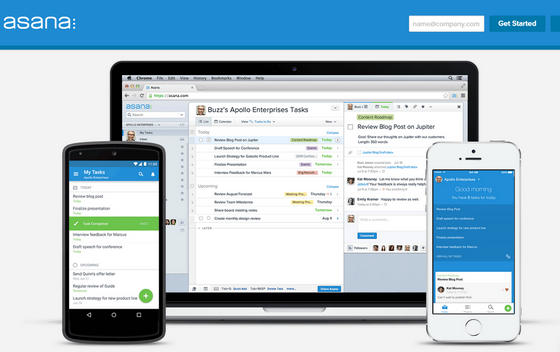 With users like Dropbox, Pinterest, Uber, Airbnb, CBS, Mashable, Stripe, Udacity and many more, Asana is another popular choice for online project management tools. This powerful tool lets you manage your team, projects and even your company from just about anywhere.
Asana has revolutionized team work by integrating tasks, conversations and project management in one place. You can add attachments to your projects from Google Drive, Dropbox or your computer. The dashboard view will provide a quick glance of what's happening with your projects. You can use the integrated calendar to have a visual display of your goals, targets, milestones and their current conditions. You can also set deadlines for each task and/or project.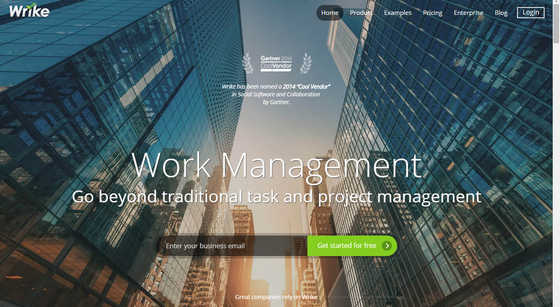 Wrike is a powerful project and work management tool. Popular brands like Amazon, PayPal, Ebay, Adobe, Hootsuite and Stanford University use Wrike for managing their daily operations. With a special focus on simplifying project management, Wrike could be extremely useful for small to large-scale companies.
Each project could be divided into small tasks. You can assign the tasks to team members, set deadlines and track the time. The simple collaboration tools of Wrike will make your team work more effectively. Instant activity updates will keep you updated about the work status.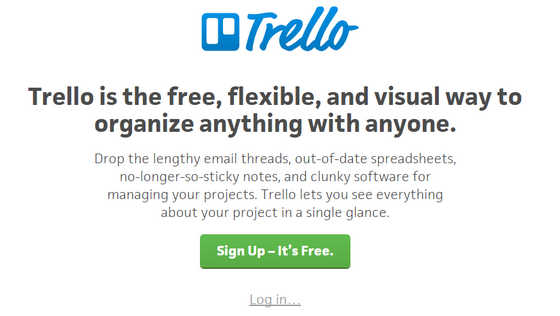 Trello is an intuitive, beginner-friendly project management tool. Trello enables you manage the projects by using boards. Each board includes cards that will be your main tool in Trello. You can use the card to create checklists, add comments, labels, due dates and attach files among other things. It is possible to move a card from one board to another.
Trello enables you to add unlimited team members on your boards. Members can be assigned to a card simply by dragging and dropping them. The integrated notifications system will keep you updated about the progress of your projects. You can receive notifications inside the app, via email or by enabling desktop notifications.
Podio provides simple but powerful project management solutions. By using this online tool, you can easily organize your projects and reduce the traditional hassles. The projects dashboard will provide a comprehensive view of the status and deliverables. It is possible to create personalized templates to store the necessary information for the team.
You can add any type of file in your projects from Dropbox, Google Drive or your computer. Tasks can be broken down to small steps and assigned to any team member. The workspace dashboard provides a quick overview of the current activities of the team members. There is a live chat feature as well.
Freedcamp provides a convenient solution for people to work together. This excellent service lets you replace the traditional project management tools with smart and intuitive online tools. The Freedcamp dashbaord provides a comprehensive overview of all the projects. You can add to-do lists and assign them to team members.
The integrated calendar displays a full schedule overview of the tasks, milestones and events of your projects. You can add multiple to-dos for a single day. Besides uploading attachments, you can search for the previously attached files too. The familiar discussions feature will establish an open communication channel between the team members.
While Evernote is generally considered a note-taking solution, it also has lots of powerful project management tools. With Evernote Business, you will get a dedicated team workspace along with all the benefits of Evernote premium. The dashboard will provide access to every note, file, research or any other content of your projects.
The in-app discussion feature allows you to communicate with other team members right from your projects. As all of your project data is available for offline access, you can manage your projects from any place in the world. The powerful search feature will help you to find any type of content including notes, images and file attachments.
Developed by Altassian, Jira is another popular project management tool especially designed for software developer teams. The flexible online tool lets you plan and keep track of  time. You can create milestones, assign team members and set deadlines for the tasks.
The instant tracking options enable you to prioritize on your most important tasks first. The historical performance data will help you to measure your team performance. As each team has its own way of going through the projects, Jira allows you to create fully customizable workflows. It is also possible to enhance the features by purchasing premium add-ons.
Zoho Projects is a fully-featured online project management tool. This handy solution enables you to plan your projects with milestones, checklists and tasks. Integrated charts and reports will provide visual representations of the task progress, project completion and other necessary information. The built-in collaboration tools make it very easy for the clients, employees and consultants to work from any location.
Every team member will have access to all the project attachments, presentation and spreadsheets. The task dependency monitor lets you have a bird's eye view of the tasks including the assigned member, deadlines, status etc. By using the timesheets, you can easily track the time spent in each task and project.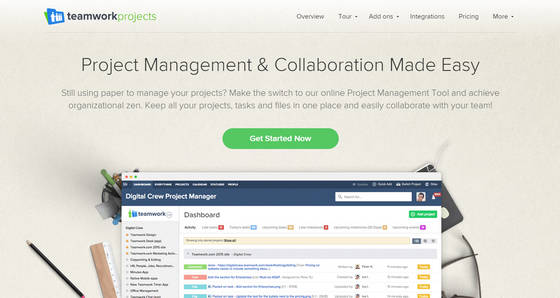 With lots of useful features and flexible options, Teamwork Projects is a practical online project management software. By using this tool, you can make sure that your projects are done within the set schedule. The built-in Gantt charts, time tracking and reporting features will help you to keep track of your running projects.
Instead of juggling through emails, Teamwork Projects helps you to keep your team members, clients, files, comments and attachments in one place. The advanced privacy option and permissions system will make sure that your information is kept secure in the proper way. The tool also incorporates popular third-party services.
Conclusion
Managing projects is a very challenging task. Along with ensuring timely deliveries, you also need to manage your regular employees, virtual assistants, freelancers and others. Doing all of this on your own is a super-human task.
You can make this easier by using a reliable project management tool. Let me know which app looks most useful to you. And if you are using any other app, let me know that too. I will be glad to take a look.
If you find the post useful, feel free to share it with others.