FreshBooks is a simple, intuitive accounting solution for different types of professionals. You can use the service to create and send professional-looking invoices to your clients. You can accept credit card payments right from your FreshBooks account.
FreshBooks comes with a fully automated expense tracking system. The simple time tracking feature will let you track and log your working hours. The detailed reports will also be very useful for you.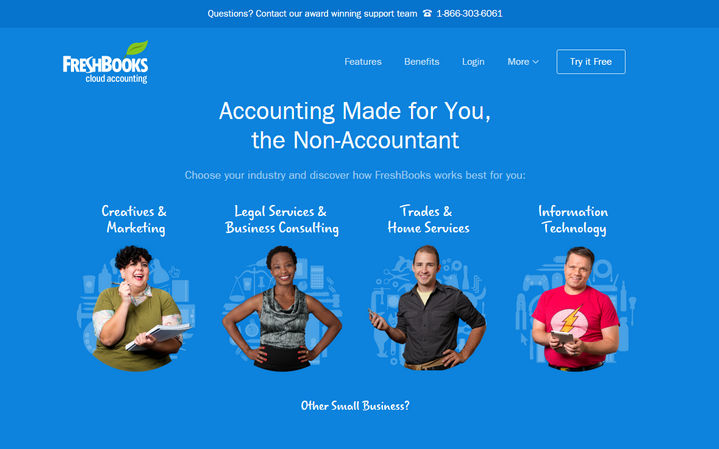 Now that you know what FreshBooks is, let's take a quick look at the pros and cons of the service.
Pros
Simple invoicing features
Diverse import options
Powerful time-tracking tools
In-depth reports
Estimates could be converted to invoices
Cons
Additional admin accounts are expensive
No support after the office hours and/or during the weekend.
Not a fully featured accounting solution
Pricing
FreshBooks comes with four pricing options. They are –
Sprout: $9.95 per month. Includes 5 clients, hide FreshBooks branding, automatic late fees, expense tracking, expense import.
Seeding: $19.95 per month. Includes 25 clients, all features of Sprout.
Evergreen: $29.95 per month. Includes unlimited clients, 1 additional admin account, all features of Seeding.
Mighty Oak: $39.95 per month. Includes unlimited clients, 5 additional admin accounts, all features of Evergreen.
Is FreshBooks Right For You?
FreshBooks has lots of useful features. There is also a wealth of add-ons which could be used to integrate your account with third-party services. With all these features, this is a perfect solution for freelancers, teams, small sized businesses and subscription services.
However, if you are looking for other alternatives, you can check out Xero, Invoicera, Zoho Invoice or Ronin.
Conclusion
FreshBooks is definitely a very powerful cloud-based accounting solution with some unique features. The large number of add-ons, different invoicing options, expense tracking, mobile apps and the award-wining customer care will only support this claim.
On the other hand, the lightly higher pricing could be an issue for some companies. Luckily, FreshBooks offers a free 30-day trial. Just sign up and see if it has the right features for you.
So, do you use any cloud-based accounting and/or invoicing service? If yes, please share your experience with us.