"It's never too late to start blogging." –Darren Rowse, founder of Problogger.
Darren said that in a podcast with Social Media Examiner. And I totally agree with him. You can create a blog at any age, anytime.
While overnight success doesn't exist in blogging, you can definitely create a successful blog if you are really passionate about it. There are two main steps for doing that, which are –
Read a lot,
Write quality posts.
The writing part is up to you. But I can help you with the reading part. Countless bloggers have shared their experience about creating a successful blog. I have created a list of the best posts from them.
Take your time and go through the guides one by one. By the time you finish reading them, you will have a solid idea about how to create a successful blog
Before you become a full-fledged blogger, it is necessary to have a proper plan for your blog. And this excellent post at Hubspot will help you to create a successful blogging strategy. It will help you to find out the right questions to ask about your blogging purpose, competition, promotion, metrics etc.
Now that you have an awesome plan for your blog, let's see how to create a popular blog in any niche. In this detailed post at NicheHacks, author Philip Kluedgen will help you to identify your niche and set up a WordPress site with the right theme and plugins. He will also tell you how to promote your content in the right way.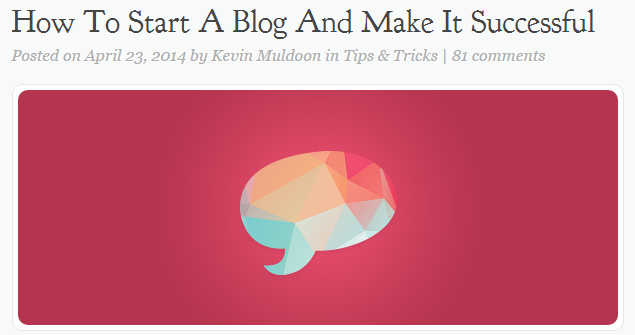 In this detailed blog post, Kevin Muldoon shares 20 extremely useful tips for starting your blog and making it successful. Besides the regular stuff, he focuses on some less-talked about things like optimizing your blog for the search engines, knowing your subject, engaging with your readers, setting goals, thinking long-term etc.
With a length of 9,000+ words, this epic tutorial covers every aspect of creating a successful blog in any niche. Complemented by images, videos, checklists and lists of resources, this very detailed guide provides lots of practical tips and tricks for building a successful blog.
Matthew Woodward is well-recognized for his extremely detailed blog posts. Within 10 months of the launch of his blog, he earned more than $60K from it. Therefore, when he releases a step-by-step guide for creating a blog, you need to pay attention. This tutorial will tell you how to set up a fully responsive, secure, SEO and social media-optimized blog.
Coming from a successful blogger with more than 10 years of experience, this is another gold mine of information for creating a successful blog. In this post, blogger Amit Agarwal shares 20 invaluable blogging tips for writing better blog content. As content is the main element of any blog, having valuable content will automatically make your blog successful.
Unlike other posts of this blog, this is an interview. And the interviewee is Darren Rowse, the founder of ProBlogger. Here, Darren talks about the research part before and after launching your blog, writing blog content, attracting readers and ultimately, tips for creating a successful blog.
If you are thinking about creating an affiliate blog, this should be your go-to guide. Here, you will find the pros and cons of affiliate blogs, how they profit and examples of successful blogs. You will also get lots of useful information about the things you will need and how to use these to create your own affiliate blog.
If you have already decided to be an Amazon affiliate, you will find this post very useful. It starts with a brief discussion about how the author, Josh Escusa sets up his Amazone niche sites. He then shows you how to optimize your website, avoid the common mistakes and finishes with an analysis of a perfect Amazon product page.
Lacking a decent ranking is one of the biggest problems for new blogs. It is a dream of every new blogger to see their blogs in the first page eventually. And in this post, blogger Tung Tran reveals how he have built a niche site and ranked it #1 in Google within 38 days.
Within its first year, GymTalk earned $15K in revenue and got more than 10K followers in social media. Want to know how? It's all discussed in this article. Henry Croft, the founder of the site discusses how he managed to  escape his 9-5 job and create a successful blog from the ground up.
Pat Flynn is one of the pioneers in making money through blogging. In this post, he shares a conversation with one of his friends who wants to start a blog. He then provides some real-life examples and advice for turning a blog into a business. If you want to create a successful blog, this is a must-read for you.
Spencer Haws is another influential blogger with years of experience in the field. He ran an interesting poll about the biggest obstacles for starting a blog. Then, he addressed the top 7 obstacles one by one. For each obstacle, he also provided links to other useful resources. If you have any of these problems, make sure that you overcome it eventually.
14. All-in-one resources
While researching for this post, I have also found some directory-like articles which include links to other valuable resources. Let me present them to you –
Conclusion
Besides reading the leading blogs, it is also important to read how the blogs became successful. The guides mentioned above will give you a clear idea about that.
Let me know which guide looks most useful to you. If I have missed any of your favorite blog guides, please let me know by leaving a comment below.
And if you find the post useful, feel free to share it with your friends too.