Each website needs a contact form. Using a WordPress contact form plugin is the easiest way to create a contact form for your blog.
Here are some other benefits of using a dedicated contact form plugin:
You will have advanced customization options
You can add required fields
It is easier to create and manage multiple contact forms
As the owner or administrator of a WordPress site, it is your duty to find a reliable contact form plugin for your website. Choosing the right one from the long list of contact form plugins could be a challenging task for you.
To make your job easier, I have created a list of the 7 best WordPress contact form plugins. Before we discuss more about the plugins, let's take a quick look at them first.
| Plugin Name | Price | Best Feature |
| --- | --- | --- |
| Gravity Forms | $39 / $99 / $199 | Advanced customization options |
| Quform | $28 | Strong anti-spam features |
| FormCraft | $33 | Attractive templates |
| Ninja Forms | Free | Ready-made form fields |
| Contact Form 7 | Free | 1 million installs |
| Fast Secure Contact Form | Free | Backup/restore forms |
| Contact Form by BestWebSoft | Free / $30 | Simple user interface |
Now that you know the primary details about the contact form plugins, let's discuss a bit more.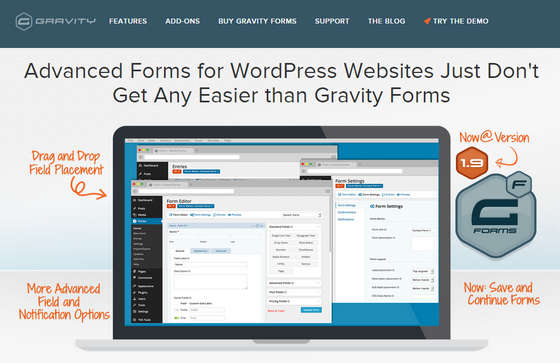 With hundreds of advanced options and add-ons available, Gravity Forms is a very popular contact form plugin for WordPress. Besides the regular contact forms, the powerful plugin will also allow you to create multi-page forms, limit entries, schedule forms and add pricing fields.
The conditional logic feature of the plugin enables you to show or hide fields, sections and the submit button among other things, based on the user selections. You can display the form by using the dedicated shortcode, custom function or the widget.
If you purchase the business or developer license, you will be able to use add-ons with various third-party services in your forms. While both licenses come with basic add-ons including MailChimp, AWeber, GetResponse, iContact, Campaign Monitor etc, the developer license comes with advanced add-ons like Slack, Stripe, PayPal, Coupons, FreshBooks, Hipchat and Zapier, just to mention a few.
Quform is a premium contact form builder plugin with a drag and drop user interface. The fully responsive contact forms created by the plugin also support Google ReCAPTCHA.
It is possible to open the form in a lightbox. By using the conditional logic feature, you can easily show or hide form options depending on the user choice. As you build your plugin, you can view a live preview of the form. You can choose any of the 15 form elements.
The plugin comes with 3 different themes with multiple variations, 6 filters to block unwanted input and 3 CAPTCHA options and 9 validators to make sure that the users are providing the necessary data. Once the form is submitted, it is possible to set an auto-reply email, display success messages or redirect the user to another page.
FormCraft is another excellent premium plugin for creating amazing-looking forms. The drag and drop interface lets you build the forms without writing any code. By choosing any of the ready-made templates, you can get your form started within minutes.
If you want to enhance the feature of the plugin, you can do so by using the free and/or premium add-ons. The fully responsive forms can also be divided into multiple pages.
Various conditional logics will allow you to perform automatic actions like showing or hiding form fields, sending email notifications, changing field values, setting custom redirection and changing the recipient.
The one-page checkout feature of the plugin enables you to streamline the checkout feature of your e-commerce site. Other useful features include dynamic survey fields, detailed form analytics and form data export/import.
Ninja Forms provides a simple way of adding contact form, subscription form or any other type of form for your WordPress site. You can easily create custom forms by using the drag and drop interface.
The plugin comes with more than a dozen template fields to be used in your form. Commonly used elements like the first name, last name, address, city, country, email and phone are available as ready-made elements. You can use them instantly.
It is also possible to save any of your configured form elements as favorites. You can use the saved item in other forms. In order to protect your contact forms, Ninja Forms comes with four different anti-spam options.
There are two submit options available – regular and AJAX. The second option submits the form without reloading the page. It is possible to enhance the plugin feature by purchasing premium plugin extensions.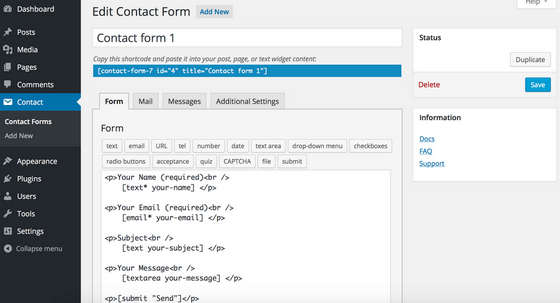 Contact Form 7 is not only an extremely popular contact form plugin, it is one of the most popular WordPress plugins too. At the point of writing, this free plugin was installed on over 1 million websites.
The plugin comes with all the common elements for building fully functioning online forms. Besides providing custom text for a field, you can also make any field required.
It is possible to customize the messages for various events like message sent successfully, message sending failed, validation errors etc. Each form will have a separate shortcode of its own.
You can easily display the contact form in a post, page or widget by using the shortcode. Besides the regular English version, Contact Form 7 is also available in lots of other languages.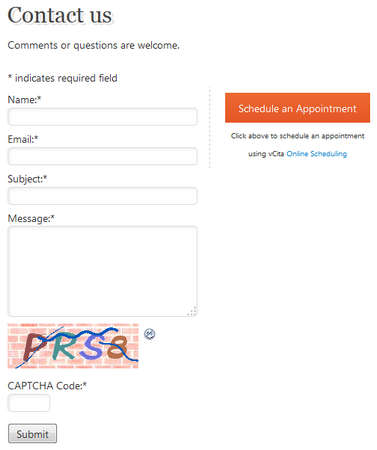 Fast Secure Contact Form is a simple but powerful WordPress plugin. This excellent, free plugin lets you add, remove, edit or reorder form elements from an intuitive user interface.
By using the backup and restore tool, you can easily save your custom forms and use them later. It is also possible to use the forms as a newsletter signup form by hiding the subject and message fields. The notification emails could be sent to single or multiple contacts.
While the plugin supports CAPTCHA, you can easily disable this for the logged-in users and/or the admins. It is also possible to translate the language into other supported languages.
Fast Secure Contact Form also enables you to add an online scheduling button in your contact forms. Besides displaying your availability, the plugin will also send automatic confirmation and reminder mail to your clients about the scheduled events.
Contact Form by BestWebSoft is another popular WordPress contact form plugin. This handy plugin comes with a ready-made form template, which could be used instantly. However, it is possible to customize the display options for the form.
Besides choosing the recipient email address of the form, you can also choose to send a copy of the email to a visitor. It is also possible to add a file attachment field. The form could be displayed by using the dedicated shortcode. The plugin is available in several languages.
Besides the free version, there is a premium version of the plugin too. By purchasing the premium version for $30 per year, you can enjoy additional benefits like form customization, placeholder text, tooltip, add custom checkbox, select box, professional support etc.
Choosing the Best Contact Form Plugin for your Site
Now that you know the best contact form plugins, let's see which one could be the best choice for you.
First of all, if you are looking for a free plugin, you can safely consider Contact Form 7. While the user interface is a bit tricky, it would be easier once you get the hang of it.
If you are looking for a simpler solution with professional support, you can go for Gravity Forms or Quform. Both of them come with extensive styling options and advanced features.
Conclusion
Having a contact form is a must for any modern website. Contact forms provide a simple and direct communication channel between you and the visitors.
So, which plugin seems most interesting to you?
If you use any other contact form plugin, let me know by leaving a comment below. And if you need any WordPress related help, feel free to check out our professional WordPress services.